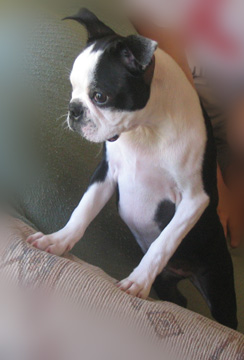 We are a small breeder located in Southeast Missouri that specializes in raising Quality Boston Terriers. We have been providing families with their new additions  since 1991. All our puppies are AKC registered, Champion Bloodlines, current on all vaccinations, Health guaranteed, and pre-spoiled. We welcome any questions before or after you take your new puppy home. Our commitment to you doesn't stop when you take your new puppy home.  We welcome any visits to our home to meet everyone before you decide on your new addition. We want you to be comfortable with your decision to purchase your new family member from us.
Our #1  goal is to provide you a loving, healthy companion for life. My greatest joy is when I see a new puppy go to their new home. I know their new family will love them as much as I do. We raise only Boston's so we can dedicate all of our time to the knowledge of the breed. We breed for correct conformation and to the breed standard. We  breed to improve the Boston Breed and produce quality companions.
Our Boston's are free from genetic defects. All of our adults are screened yearly for any health issues including patella issues.  All of our Boston's are genetic tested clear for JHC (hereditary cataracts). We would love to help you in your decision to purchase a new addition to your family.  Our Boston's are a part of our family. We would love to help you choose one that is just right for you and your family.